Our
high security

on-site shredding services comply with BS EN15713 Secure Destruction of Confidential Waste.
This is the standard specified by the British Security Industry Association (BSIA) and covers security levels, vetting of employees (BS 7858), customers contracts and recycling. An appropriate person from your company will witness the destruction of the confidential material, and we'll issue a certificate of destruction – showing the weight and details of the collection straight after.
It is essential to partner with a high-security shredding service provider when data security is of the utmost importance. Shredall SDS Group offers services that exceed industry standards, including MOD-approved collection vehicles, maximum-security facility destruction using advanced cross-cut shredding technology, and security-vetted teams acting with absolute discretion and professionalism at all times.
Our Vehicles & Security
Designed and manufactured by Shred-Tech, our 18-tonne MDX and MDS mobile shredding machines are the most advanced vehicles of their kind globally. The shredders are mounted on our purpose built MDX-1 lorries, which are considered to be the most secure vehicles in the world and are approved by both CPNI and the Ministry of Defence. They're fast, efficient and calibrated to shred approximately 3000kg of paper per hour, in accordance with the relevant European Standard.
In ultra-high security mode, the machine meets the requirements of EN15713 security level 3, suitable for most sensitive or confidential information and produces cross-cut strips of 16mm. In ultra-high security mode, the machines meet the requirements of EN15713 security level 6, suitable for confidential and top secret data that, if disclosed, could have severe consequences. The cross-cut reduces paper to 2mm stripes or pieces with a maximum surface area of 320mm2.
Document security shredding is an integral part to good business practices. Find out today how high security shredding can benefit your business, in both the short and long term.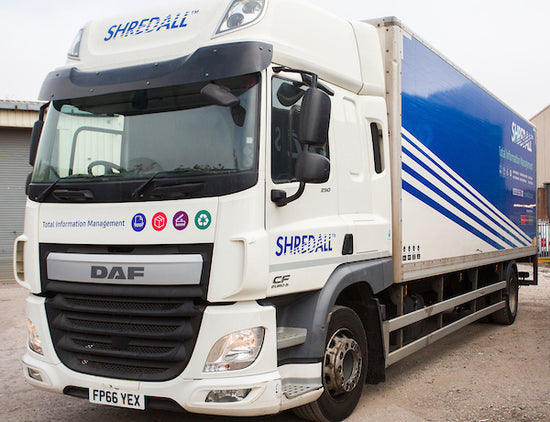 Why choose Shredall SDS Group as your document shredding service provider?
Shredall SDS Group staff are always helpful and cheerful, from the drivers who collect the confidential paper waste and archive boxes to operations, managers and directors organising the service. Archive boxes and paper waste are always collected and delivered promptly.
Shredall SDS Group In Numbers
Document shredding FAQs
We've answered some of the most common questions that clients ask about our shredding services. If you can't find the answer you're looking for here, don't worry – just get in touch.
How long should business documents be kept before shredding?

It's important that you shred business documents to ensure that the information they contain remains confidential. However, certain types of files that should be retained for a period of time before they are shredded for accounting and/or legal purposes.


In some cases, business documents have a minimum statutory retention period that you must comply with. For a detailed breakdown of different types of business document and how long you should hold on to them, consult our guide to document retention policies and periods.
Where will my documents be shredded?

This depends on which type of shredding service you choose. In most cases, your documents will be transported to one of our secure depots across the UK before being shredded.

However, we also offer a convenient mobile shredding service to allow for your documents to be shredded on-site, whether that's at your home or business premises.
What happens to the paper once my documents have been shredded?
What types of material can you shred?
How much does paper shredding cost?

The amount we charge to shred paper documents varies depending on the weight of your documents and the type of shredding service that you
require.

Our regular scheduled service offers the most cost-effective solution, but we also provide premium high-security and mobile on-site shredding packages depending on the needs of your business.

Get in touch to arrange a quote for one of our professional shredding services.