Our securely locked enclosed roll-on roll-off skips and containers are a cost-effective solution for businesses looking to remove large volumes of confidential data for destruction.
Shredall SDS Group provide waste collection and transportation services, helping businesses across the country securely dispose of their recyclable waste. As we're always looking to become more efficient, cutting down on the number of collection visits we make has become one of our main goals. Not only does it result in less hassle for our clients, but it also reduces our impact on the environment.
Uses for Roll-on Roll-Off Skips
Lockable Roll-on roll-off skips are ideal for storing larger volumes of confidential waste material for eventual disposal. You can store anything from paper documents or electronic waste, such as hard drives and media tapes, ready for collection whenever suits you. Our containers will allow you to remove 8-10 tonnes of material in one visit, making the process efficient and cost-effective for large clearances.
These containers can also be supplied for non-confidential waste, such as general office, print and bulk waste. Much of this can later be recycled in bulk at our premises, where our state-of-the-art machinery cleans and de-inks the paper to be re-used.
Read more about our recycling services.
Roll-on Roll-off Skip & Containers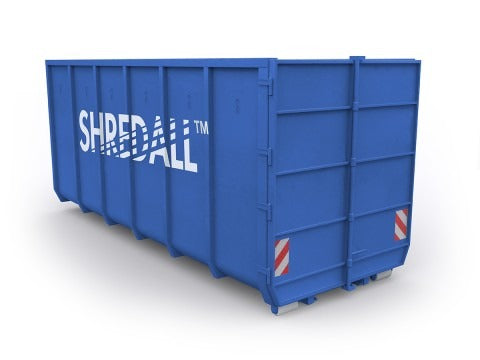 Description: Steel
Height: 2.37m
Width: 2.45m
Length: 6.1m
Colour: Blue
Lockable: Yes
Paper Slot: No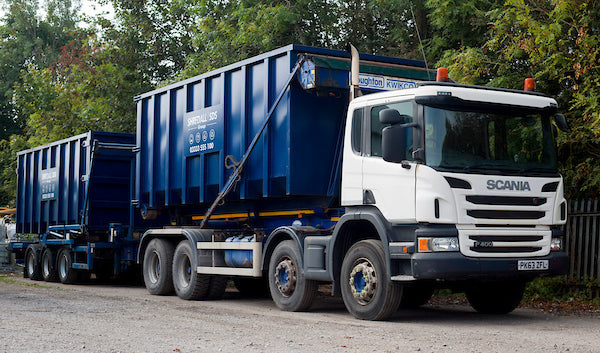 Specifications
Our enclosed skips are suitable for external use only. You will be able to simply walk into the containers, store the waste and lock the doors behind you to ensure that the data is protected.
How Roll on Roll off Skips could benefit you –
Large and bulky amount of paper or cardboard waste
Large amount of confidential paper waste
Bulky office or warehouse clear out
High volume of old stock for destruction
How our lockable enclosed skips shouldn't be used –
Roads and Driveways – they are too big
Household electrical waste
Building waste
Hazardous waste
To be able to offload all of our confidential documents into a RORO skip over 2 weeks was a dream come true. Knowing that our private documents are in the care of a trusted and compliant company is amazing. Thank you