Our scheduled shredding service saves you time arranging collections and ensure confidential waste is dealt with quickly. We can arrange regular collections for both on-site and off-site shredding
Collections can be scheduled daily, weekly, fortnightly or every four weeks and you will be given collection dates for a whole year in advance.
Our operations team will give you a report showing our scheduled collection dates for the whole year, so you're aware when we're due to visit. Our scheduled shredding service is a convenient option that saves you time, allowing you to concentrate on more pressing tasks. What's more, we're able to cater to all levels of shredding requirement – no matter how large – due to our industrial-scale equipment with advanced cross-cut shredding functionality.
As an established nationwide firm, we also stand apart from smaller scheduled shredding service providers due to our high security measures. Our staff comprises security-vetted individuals who can be trusted to handle your confidential documents with absolute professionalism and discretion. Furthermore, all of our vans have been approved by the MOD and we will email you with a certificate of data destruction after the shredding process is finished.
Should you choose to carry out your scheduled shredding at one of our depots instead, we follow a separate procedure to ensure GDPR compliance
One-off and bulk collections
If you don't have enough confidential waste to arrange a regular scheduled collection, or if you dispose of old records once a year, you can simply book a one-off collection. Our drivers visit most parts of the UK every week, so we'll be happy to make an ad-hoc collection whenever you need it.
Whether your run a multinational corporation or a small home-based enterprise, you can rely on us to give you the same prompt, reliable, high-quality service. We can collect all forms of confidential waste in archive boxes, sacks or pallets. For large clear outs, we can also provide a roll-on roll-off containers or as many lockable bins as you require, free of charge and for the duration of the job.
Lockable Consoles, Bins and Confidential Sacks
We offer a range of lockable bins, secure data consoles, paper waste bins, roll-on roll-off skip container hire and sacks for you to store confidential paper waste in, ready for on-site destruction. To find out more, visit the Receptacles section of our website or contact our team of shredding specialists.
Read more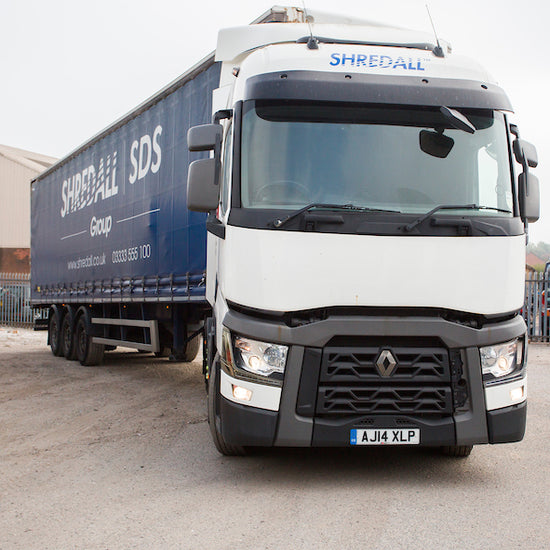 Why choose Shredall SDS Group as your document shredding service provider?
We are very happy with the services your confidential waste shredding company are providing, the staff are always helpful In person and on the end of the phone to answer any queries, we can set up new site collections with no hassle or fuss, the whole system is working very well.
Shredall SDS Group In Numbers
Document shredding FAQs
We've answered some of the most common questions that clients ask about our shredding services. If you can't find the answer you're looking for here, don't worry – just get in touch.
How long should business documents be kept before shredding?

It's important that you shred business documents to ensure that the information they contain remains confidential. However, certain types of files that should be retained for a period of time before they are shredded for accounting and/or legal purposes.


In some cases, business documents have a minimum statutory retention period that you must comply with. For a detailed breakdown of different types of business document and how long you should hold on to them, consult our guide to document retention policies and periods.
Where will my documents be shredded?

This depends on which type of shredding service you choose. In most cases, your documents will be transported to one of our secure depots across the UK before being shredded.

However, we also offer a convenient mobile shredding service to allow for your documents to be shredded on-site, whether that's at your home or business premises.
What happens to the paper once my documents have been shredded?
What types of material can you shred?
How much does paper shredding cost?

The amount we charge to shred paper documents varies depending on the weight of your documents and the type of shredding service that you
require.

Our regular scheduled service offers the most cost-effective solution, but we also provide premium high-security and mobile on-site shredding packages depending on the needs of your business.

Get in touch to arrange a quote for one of our professional shredding services.