Shredall SDS Group are offering free waste office paper collection to sit alongside your confidential waste shredding service.
Paper makes up to 80% of office waste and can be effectively recycled back into new paper related products, providing fantastic savings for your business while reducing your carbon footprint.
Benefits to using our waste paper bin:
All waste is sorted at our state-of-the-art facilities
Closed-loop recycling: See how we recycle here
Waste office paper is collected for free alongside your confidential paper collection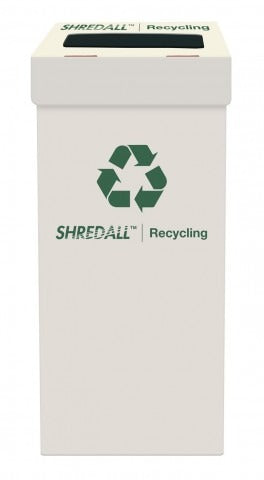 Description: Cardboard
Height: 760mm
Width: 381mm
Length: 305mm
Colour: White
Lockable: No
Paper Slot: Yes
SDS have provided a reliable, fail proof, business disaster recovery plan for student documents and other important archives. I was worried the cost would be out of our comfort zone but actually with a business plan put in place, the cost was manageable and is now much more effective. SDS have given us the ability to convert paper documents to electronic files, making our storage and accessibility much more manageable, convenient and cost effective. Shredall SDS Group have provided us with many options to digitize, store and confidentially destroy our rooms full of archive storage. Documents never get misplaced like they used to and rooms that were full of archive boxes are now used as classrooms and a staffroom.