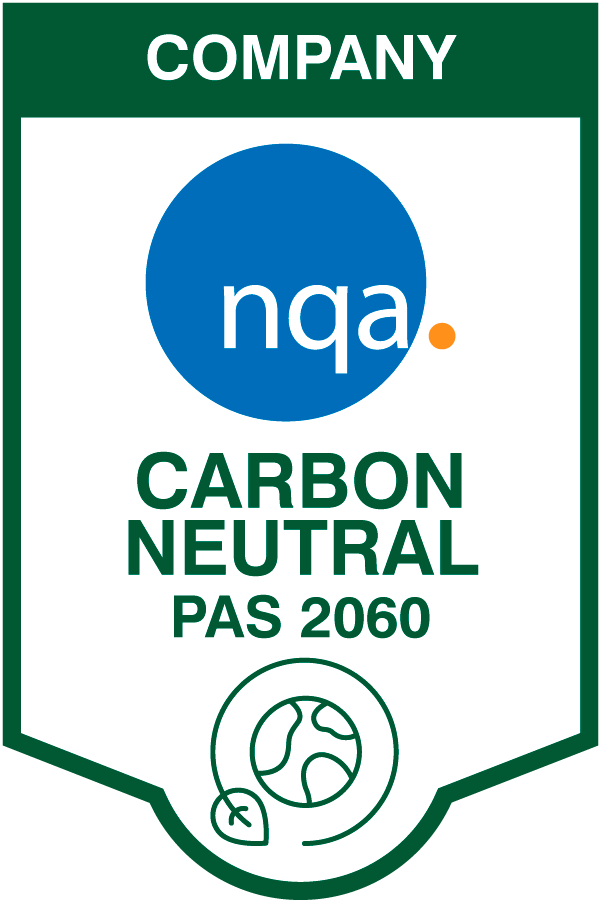 Verified Carbon Neutral
We're a carbon neutral company, verified by an independent third party (NQA) in accordance with PAS 2060:2014. We are committed to sustainability and environmentally responsible business practices, and we believe that achieving this carbon neutrality status is an important step in protecting the planet for future generations.
So far, Shredall SDS Group has offset a total equivalent of 1,240 tonne(s) of CO2 emissions. This is equivalent to 3,178,80 miles being driven by an average gasoline-powered passenger vehicle. We're committed to continuing our efforts to reduce our emissions, and make ours and our customer's businesses greener.
How we achieved carbon neutrality
Becoming a carbon neutral company has been a long-term core value of ours, helping to build on our environmental commitments and our accreditations. Gaining independent verification of carbon neutrality is the result of a significant project for our compliance and accounts departments, as well as a rigorous auditing process that verified our carbon footprint (the emissions we create as a company), our carbon reduction efforts and work with pre-validated offset schemes.
For example, our power is provided through zero carbon, 100% renewable resources, meaning we can confidently report that we make no carbon emissions from our electricity. We have also installed LED lighting in our newly-refurbished secure document storage warehouse.
Why it benefits our customers
We use our approach to carbon neutrality to encourage our customers to strengthen their own business environmental commitment.
We're helping our customer's businesses reduce their own carbon footprint by shredding paper, and ensuring all of the confidential waste is securely destroyed and recycled at UK paper mills.
By reducing our own emissions, we're reducing overall demand for energy and resources, ultimately helping our customers use less energy and resources to produce their own products and services.
Carbon neutrality aligns with holistic action towards reducing climate change, and we hope that by achieving this we're setting an example for businesses everywhere, and supporting our customers in their environmental endeavours.
Learn how Shredall SDS Group can help you combine your document security with environmental responsibility by getting in touch with us today.
I am proud to announce that Shredall SDS Group has achieved carbon neutrality. This is a major milestone for our company, and it is one that we could not have achieved without the hard work and dedication of our employees.

We have taken a number of steps to reduce our carbon emissions, including using 100% renewable resources for our electricity, offsetting our emissions and ensuring we recycle 100% of the paper waste we manage. We are committed to continuing our efforts to reduce our environmental impact, and we believe that carbon neutrality is just the beginning.