The secure way to automate your inbound and outbound mail
A digital mailroom is an effective way to automate your inbound and outbound mail. By using digital mailroom automation processes, your company can gain access to mail digitally, identify priority communications, and improve the security of mail within your organisation.
If you're looking for a way to improve the way your business handles mail, then Shredall SDS Group digital mailroom services are the perfect solution for you. With our solutions, you'll benefit from less repetitive admin, improved customer service and boost your overall productivity, efficiency and ultimately, profitability.
With digitisation on the rise for many businesses, and hybrid working the new way to operate, document scanning is the foolproof solution for getting documents organised and digitised. And the same goes for your mail! Get in touch with us today to find out how our digital mailroom solutions can help your business.
How our digital mailroom automation works
Choose Shredall SDS Group for your outsourced digital mailroom
With over 25 years of experience in the document management industry, countless testimonials and an excellent Feefo rating, you can be assured that your mailroom automation is in safe hands.
All of our team members go through rigorous security checks to comply with industry standards, including a ten-year career history check and DBS check, as well as taking part in regular internal training on data protection, safety and security. And with numerous industry accreditations, including ISO9001 and ISO27001, you can be sure to put your trust in us.
We also want to work with you to help make your business greener. We've made an environmental commitment that means we take an eco-friendly approach to destroying confidential data, as set out in our ISO 14001 Environmental Certification. We're proud to say that 100% of the paper we shred is recycled at UK paper mills.
We understand that every company is different, so our team would be happy to visit your site, discuss your requirements and offer advice on an ideal digital mailroom solution for you.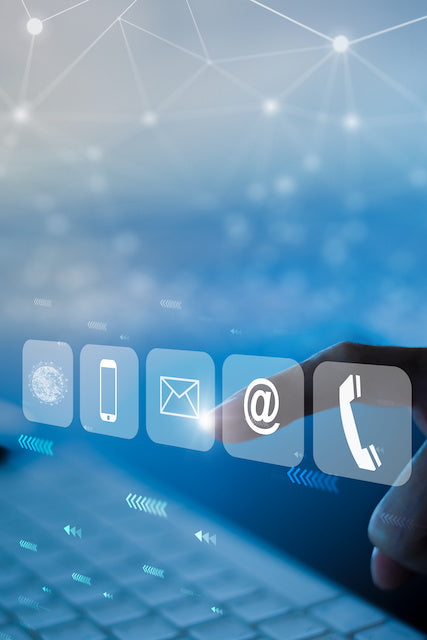 The benefits of digital mailroom solutions
If you're looking for a way to improve the efficiency, accuracy and security of your mail, a digital mailroom service is the best step forward for your business. Benefits of a digital mailroom include:
1. Increased efficiency
Digital mailrooms significantly reduce the amount of time and resources spent on processing mail. Our solutions can help you automate many of the manual processes associated with traditional mail processing.
2. Enhanced security
Digital mailroom solutions are the secure way to manage your mail. Using encryption to protect documents from unauthorised access, it fully tracks the mail through its journey, and houses your information in secure data centres so that they're protected from physical tampering.
3. Reduced costs
Traditional mailrooms require financial investment, including physical storage space, paper, printers and scanners, as well as labour, to sort them. By digitising your mail, you can eliminate a significant portion of these costs.
4. Improved customer service
A digital mailroom can improve customer service in a number of ways, including faster response times, reduction of human errors, transparent communication between business and customer, as well as general improved confidence in your security.
5. Compliance
A physical mailroom often has GDPR risks, as it's easy to lose track of physical documents and risk a fine and reputational damage. With mailroom automation, your business will have a clear audit trail that is GDPR compliant.
Digital Mailroom FAQs
Below, we've answered some of the most common questions that clients ask about our digital mailroom services. If you can't find the answer you're looking for here, don't worry – just get in touch.
How does a digital mailroom work?

A digital mailroom works by scanning and digitising incoming mail, indexing them appropriately, and then routing the digital copies to users via a secure online portal.
What is a digital mailroom?

A digital mailroom is a software used to automate the processing of incoming and outgoing mail. This can include scanning paper mail, extracting data such as invoice numbers and dates from emails, and routing documents to the appropriate people or departments.
Which industries can benefit from digital mailroom automation?

Many different industries that receive a large amount of inbound and outbound mail will benefit from digital mailroom automation. In particular, healthcare, retail, government and legal businesses will see improved operational efficiency.
What tasks can be automated in a digital mailroom?

Tasks can vary depending on the specific needs of the organisation, but some common tasks include: mail identification and sorting, data extraction, scanning and indexing, archiving and reporting.
SDS have provided a reliable, fail proof, business disaster recovery plan for student documents and other important archives. I was worried the cost would be out of our comfort zone but actually with a business plan put in place, the cost was manageable and is now much more effective. SDS have given us the ability to convert paper documents to electronic files, making our storage and accessibility much more manageable, convenient and cost effective. Shredall SDS Group have provided us with many options to digitize, store and confidentially destroy our rooms full of archive storage. Documents never get misplaced like they used to and rooms that were full of archive boxes are now used as classrooms and a staffroom.