We provide a domestic document shredding service to help private individuals working from home to securely dispose of sensitive information.
It's never been more important to keep sensitive information out of the hands of unwanted third parties and reduce the risk of identity theft and business fraud with paper documents stored at home.
As a leading UK provider of secure document disposal services, Shredall SDS Group offers a home shredding service to help private individuals destroy confidential documents and hard drives.
Choose a fully compliant domestic shredding service today. We offer both on-site and off-site document disposal services to suit all needs.
Should you choose our domestic off-site shredding service, we follow a separate procedure to ensure GDPR compliance:
We arrange an ad-hoc collection or a schedule for regular collections.
Our fully trained operatives scan the barcodes on each receptacle, providing an audit trail that continues until the final invoice. They transfer the waste to our custom-built vehicle, where it's securely locked in the rear.
Your confidential waste is transported to one of our state-of-the-art depots and is shredded within 24 hours. Our cross-cut industrial shredders can shred over 320 tonnes per day. Once all materials have been destroyed, we issue a certificate of destruction. This is a minimum requirement for anyone disposing of confidential waste and should be held on file for six years.
The shredded waste is baled and collected for recycling.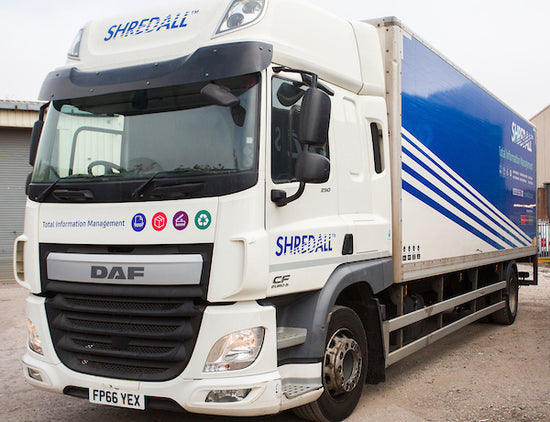 Why choose Shredall SDS Group as your document shredding service provider?
The service was excellent and we will be using it again. The shredding van arrived on time, the staff were very efficient, pleasant and helpful. The whole process was quick and tidy.
Shredall SDS Group In Numbers
Home shredding FAQs
Given that confidential home shredding services have increased in popularity during the recent pandemic, it's understandable that the concept may be a little unfamiliar to you. The FAQs below should help to answer some of your questions, but feel free to get in touch with any other queries.
Will you take my documents away or shred them at my house?

This depends on whether you opt for on- or off-site shredding. In many cases, we will collect your documents and take them away to be shredded at our facilities. If required, however, we visit you and shred your documents on-site, allowing you or a member of your company to witness the shredding.
Should I remove any staples, clips or plastic from my documents before you arrive to collect?

No, this isn't necessary – the state-of-the-art machines at our facilities and in our on-site shredding lorries will remove any plastic or metal parts so that the paper can be recycled.
Do your on-site domestic shredding services create a lot of noise?

Although our shredding machines do make some noise, they can handle a large volume of paper so the process is over very quickly, helping to minimise any disturbance.
What happens to all of the paper once you've taken it away and shredded it?
Is your domestic shredding service on a one-off or scheduled basis?

We offer both one-off and scheduled shredding services. Contact us today to find out more.