We can supply lockable shredding bins for you to store confidential waste in prior to your next collection.
Available in a range of sizes to suit the needs of your organisation, these bins can be locked securely to prevent any confidential files from getting into the wrong hangs before they are shredded.
The smaller bins come with paper slots, allowing any files and other confidential documents to be deposited easily. We can also provide wheelie bins for both indoor and outdoor locations, with a lock and slot mechanism to ensure that there is no unauthorised access to the confidential contents.
Looking for confidential waste receptacles that blend into an office environment? Available in several colours, our lockable shredding consoles are the perfect option. If your business only requires storage for small one-off waste collections, then our confidential waste sacks may be a better choice.
Take a look at the selection of lockable shredding bins we provide below.
Confidential Document Disposal Bins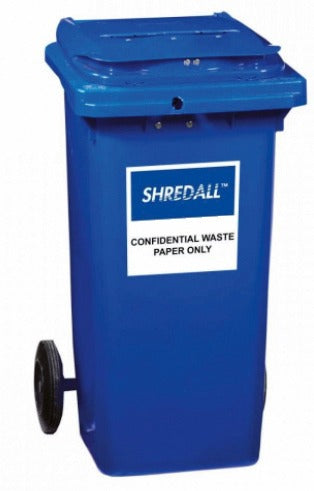 Description: Plastic
Height: 960mm
Width: 480mm
Length: 540mm
Colour: Blue
Lockable: Yes
Paper Slot: Yes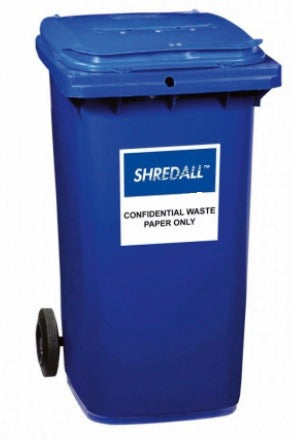 Description: Plastic
Height: 1050mm
Width: 590mm
Length: 720mm
Colour: Blue
Lockable: Yes
Paper Slot: Yes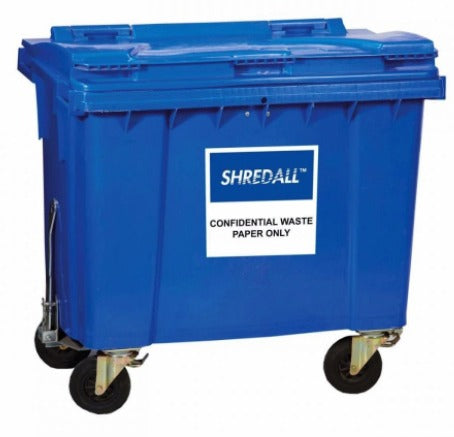 Description: Plastic
Height: 1200mm
Width: 1230mm
Length: 770mm
Colour: Blue
Lockable: Yes
Paper Slot: No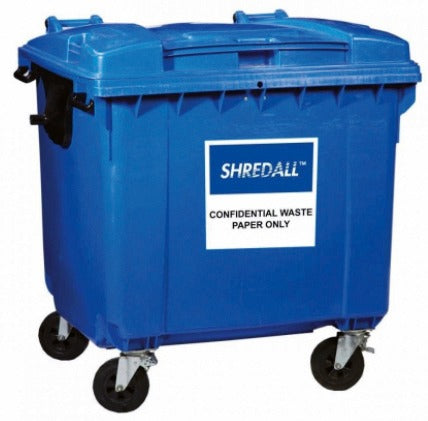 Description: Plastic
Height: 1400mm
Width: 1200mm
Length: 1070mm
Colour: Blue
Lockable: Yes
Paper Slot: No
Delivery and collection of confidential shredding bins
We're able to drop off your confidential shredding bins and then collect your waste around your schedule. The process is straightforward and flexible to suit your requirements:
What can our lockable shredding bins be used for?
Our confidential shredding bins come in a range of sizes depending on how much waste your organisation produces: a 120-litre bin is perfect for smaller businesses as its 480mm width allows it to fit into tight spaces, but we also offer larger options up to 1100 litres if you need to store larger volumes of confidential documents before shredding.
Should your organisation require waste receptacles for outdoor use, our larger shredding bins are the ideal choice. These do not come with external paper slots, meaning that the confidential waste will stay dry inside ready for shredding and recycling.
All of our bins feature high-quality locking mechanisms to ensure that confidential information remains secure at all times prior to shredding.
Looking for something else?
If you need a smarter confidential waste receptacle that looks more at home in an office, you may want to consider a lockable shredding console instead. These are available in a range of colours to suit any space.
Organisations that only require a one-off shredding service – or don't tend to produce much waste – may prefer to use our confidential waste bags.
SDS have provided a reliable, fail proof, business disaster recovery plan for student documents and other important archives. I was worried the cost would be out of our comfort zone but actually with a business plan put in place, the cost was manageable and is now much more effective. SDS have given us the ability to convert paper documents to electronic files, making our storage and accessibility much more manageable, convenient and cost effective. Shredall SDS Group have provided us with many options to digitize, store and confidentially destroy our rooms full of archive storage. Documents never get misplaced like they used to and rooms that were full of archive boxes are now used as classrooms and a staffroom.
I'd just like to say that Liam who did today's job is such a personable and hard worker and an asset to Shredall. He collected 48 bags on his own without a word of complaint. He was very helpful and cheery and his customer service was outstanding. He clearly enjoys his job and went above and beyond today.