It's vital to set up a disaster recovery plan with offsite tape and media storage so that data can be easily recovered in an emergency.
First, data should be backed up onto tapes or discs, then it should be securely stored off-site.
Our offsite tape storage service includes a simple rotation process for your data, using specialist lockable media transit cases, handled by trained, vetted and uniformed staff, scheduled to suit your own unique requirements.
We are experts in backup tape storage, offering full tracking, cost-effective collection and delivery, secure vaulted storage and a convenient web-based ordering and inventory-management service.
Collection and delivery
SDS Document Storage will deliver your stored data to an agreed location on a scheduled rotation agreed by the customer or if an emergency rotation is required this can be arranged. Moving your backup tape and media storage offsite will help you to create a secure risk management plan to protect your business.
We travel all over the UK and offer a daily or weekly service for collections and deliveries in and around our core areas of Birmingham, Nottingham, Derby and Leicester. Each tape we store is individually barcoded and is scanned at various stages of its journey: when it is removed from site, as it enters the secure loading area, and as it's loaded onto our vehicle.
Our drivers are fully vetted and DBS checked, and will give you a receipt for each collection or delivery. We maintain a full audit trail for every tape, meaning you can track your items at any time throughout the offsite tape storage process.
If you need your tapes returning, you can use our online ordering service for fast, hassle-free delivery. We also run a 24-hour courier service throughout Birmingham, Nottingham, Derby and Leicester, so we'll get your data to you quickly when it matters most.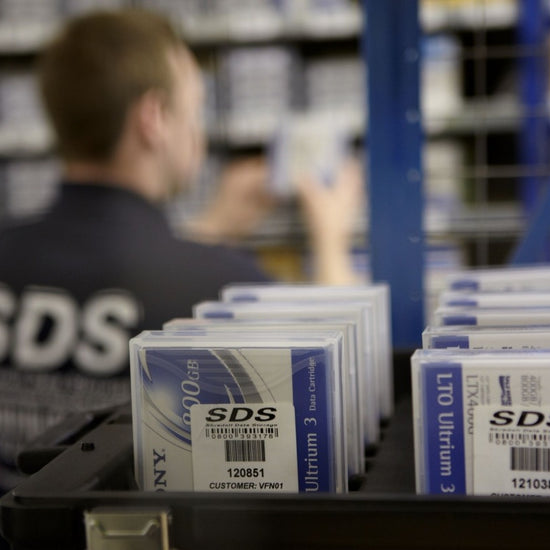 Secure Media Storage
Our secure media storage vault, located at our head office in Nottingham, is dedicated to backup storage of tapes and disks. This purpose-built facility has earned us a reputation as one of the UK's leading tape storage companies. Our state-of-the-art vault is:
Why choose Shredall SDS Group as your storage service provider?
We use SDS for daily backup tape storage. An excellent company to work with, they provide a great service and their staff are not only very professional but friendly too. They have adapted to our business needs on more than one occasion without difficulty to ensure our customer satisfaction. I would thoroughly recommend them to anyone!
Document Storage FAQs
Below, we've answered some of the most common questions that clients ask about our document storage services. If you can't find the answer you're looking for here, do not worry – please get in touch.
What steps are taken to ensure that my documents are secure?

The security and confidentiality of your documents is our top priority as a document storage company.

Our operatives are fully vetted and DBS-checked to comply with BS 7858. At our high-security storage facilities, your documents will be protected by intruder alarms linked to police stations via Redcare, and monitored by 24-hour CCTV, giving you complete peace of mind.

Rest assured that your files are safe in transit, too: each box of documents is carefully scanned using our barcode system and you will be provided with a full audit trail, allowing you to track your documents through all stages of the transportation, delivery and retrieval process.
Are your document storage services fully GDPR-compliant?

Yes – all of our document storage services offer complete compliance with the General Data Protection Regulation (GDPR).

As well as ensuring that your documents are transported and stored in secure environments, we offer comprehensive file-level indexing that's handled by security-vetted operatives. This process ensures that you can retrieve individual files with ease and remain GDPR-compliant.

Take a look at our guide to GDPR and data storage for more information.
How will I access my documents whilst they are in storage?

Once we've transported your files to one of our secure document storage facilities, you'll be able to request retrieval via email or the SDS online ordering system. We also offer a range of document scanning services, enabling you to access your files in a variety of digital formats if required.
How much does document storage cost?

The price of our storage services varies depending on the quantity and type of documents that need storing, as well as the security level that you require. We offer a full range of packages from standard business document archiving through to vault storage for storing the most sensitive physical and electronic documentation. Get in touch today to find out more or to arrange a quote.
Are any self storage options available?

We also offer self storage in container units at our Nottingham site through our sister company, Loft Self Storage.